Romances between partners of vastly different ages have always been a cornerstone of Hollywood legend. Humphrey Bogart and Lauren Bacall are a classic example: their 25 year age difference (she was 20, he was 45 and had been married three times before) didn't stop them from falling, and staying, in love. Bacall described their relationship as "the headiest romance imaginable." They married in 1945 and and stayed together until Bogie's death in 1957.
Charlie Chaplin and his future wife Oona O'Neill (daughter of playwright Eugene O'Neill) first met when he was 53 and she was 17. He'd already been married three times, twice to 16-year-olds. O'Neill explained their relationship: he "made me mature, and I keep him young."
It's not always the case, though, that the man is older. Madonna and her now ex-boyfriend, Jesus Luz, had a 28 year age disparity—he was 23, she was 51 (14 years older than Luz's mother, which is maybe a little ew).
Here are some couples who are making it work, at least for now, despite being at least 20 years apart in age.
1. Holland Taylor (75) and Sarah Paulson (43)
Sarah Paulson recently talked about her relationship with fellow actor Lauren Holland, with whom she's been involved for about a year. In an interview with the New York Times, Paulson recalls first meeting Holland at a dinner party about a decade ago, and thinking that she was "probably the most exquisitely beautiful woman [she'd] ever seen."
Paulson's previous relationship was also with an older woman—actor Cherry Jones, who is 18 years older than her. In the same interview, she explained her attraction to people older than her:
There's a poignancy to being with someone older. I think there's a greater appreciation of time and what you have together and what's important, and it can make the little things seem very small. It puts a kind of sharp light mixed with a sort of diffused light on something. I can't say it any other way than there's a poignancy to it, and a heightened sense of time and the value of time.
Her statement pretty much boils down to a more romantic way of saying, "Enjoy the time you've got together, because one of you is fairly close to dying."
2. Billy Joel (68) and Alexis Roderick (35)
Billy Joel married Alexis Roderick, a senior risk officer at Morgan Stanley, in 2015. A little perspective: she's only three years older than his daughter Alexis (whose name is not far from "Alexa," but don't think about that too much). Prior to Roderick, Joel was married to another much younger woman, food critic Katie Lee, who is a year older than his current wife.
3. Patrick Stewart (77) and Sunny Ozell (39)
Sir Patrick Stewart and singer/songwriter Sunny Ozell met through a mutual friend in 2008, when she was working as a waitress in New York City. According to Stewart, "sparks flew instantly between them" (apparently, not the dangerous kind). She wanted to see a show he was performing in, but it was sold out, so Stewart gave Ozell his number and told her to call him. He claims that's the first time he's ever done that, and it worked—because the two got married in 2013, and now he's got a father-in-law who is five years younger than him.
4. Steve Martin (72) and Anne Stringfield (45)
Steve Martin married writer and former New Yorker staffer Anne Stringfield in 2007; Lorne Michaels was the Best Man. In 2015, when Martin was receiving the 43rd American Film Institute Life Achievement Award, Tina Fey joked that Martin had married "a woman who is, I think, a younger, thinner, smarter version of me."
5. Jeff Goldblum (65) and Emilie Livingston (35)
Every straight woman's heart broke a little when Jeff Goldblum married Emilie Livingston in 2014, because it meant that the silver fox was officially off the market (come on, you never stood a chance). And then their hearts completely crumbled, because he'd married someone 30 years younger than him. Oh, and she's a contortionist, too.
6. Alec Baldwin (59) and Hilaria Baldwin (34)
Alec Baldwin met Hilaria (née Thomas) in a restaurant, where the pair locked eyes from across the room. She apparently didn't know how famous he was, and made a point of never Googling him. The pair wed in 2012, and they're now expecting their third child together. And yes, she is a yoga instructor.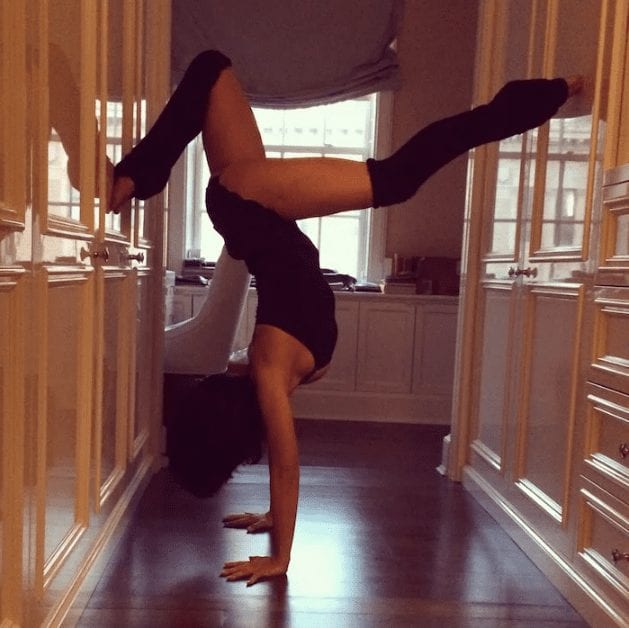 7. Eddie Murphy (56) and Australian model Paige Butcher (38)
Eddie Murphy and Australian model Paige Butcher started dating in 2012. They're not married, but she's pregnant with their baby, and due in May of this year. This will be Murphy's ninth child.
8. Robin Thicke (40) and April Love Geary (23)
After his disastrous divorce from his ex Paula in 2015, Robin Thicke began dating model April Love Geary. Their first "official" appearance together was at the Cannes Film Festival in May 2015. Hopefully if/when this relationship ends, he will not make an entire album about her, because yikes.
9. Dick Van Dyke (92) and Arlene Silver (46)
Beloved actor/grinning skull Dick Van Dyke met makeup artist Arlene Silver at a SAG Awards dinner in 2006. Van Dyke talked to Oprah: Where Are They Now? a bit about how his relationship with Silver began: "She would drop by, cook my dinner or bring me dinner, and just took care of me. So, I mean, I had to marry her. I became totally dependent!" They got married in 2012. The couple says their 46 year difference in age is not a problem, although Van Dyke has jokingly referred to Silver as his "child bride."
10. Kelsey Grammer (62) and Kayte Walsh (38)
Kelsey Grammer started an affair with Kayte Walsh six months before he left his wife of 12 years, Camille (one of the Real Housewives of Beverly Hills). They met in 2009 when she was a flight attendant on a flight he was on. After the flight, they spent what he called a "magical night" together in London. And apparently that magic kept going, because he married her in 2011, making her his fourth wife. The big question is: what would Fraser think of all this?
11. Michael Douglas (73) and Catherine Zeta-Jones (48)
Actors Michael Douglas and Catherine Zeta-Jones were introduced to one another in 1998 by Danny DeVito at a film festival in France. According to Extra, Zeta-Jones claims that when they met, Michael told her "I'd like to father your children." While some might consider that such a creepy line that they'd have to fight to keep themselves from running far, far away, Zeta-Jones was okay with it. They married in 2000, and they do indeed have two children together.
Zeta Jones has said: "I was in love with my husband at first sight and still am. We have the most solid relationship." They also both have the same birthday, so clearly their romance was written in the stars. Oh, and he once kinda blamed his throat cancer on her genitals.
12. Bruce Willis (62) and Emma Heming (39)
Bruce Willis married English model Emma Heming in 2009. Before that, he was married to Demi Moore, and after they split, Moore famously got involved with Ashton Kutcher, 15 years her junior. So while they may not still be married, Willis and Moore at least have that in common.
13. Woody Allen (82) and Soon-Yi Previn (47)
Woody Allen and Soon-yi Previn's relationship has the added ick factor of Woody having been in a serious long-term relationship with Previn's adoptive mother, Mia Farrow. So when Allen and Previn wed in 1997, not only did Allen marry someone young enough to be his daughter, he sort of a little bit in a way totally did marry his daughter.
14. Harrison Ford (75) and Calista Flockhart (53)
Harrison Ford and Calista Flockhart started dating in 2002, after meeting at the Golden Globes, and got married in 2010. "It doesn't faze me," Flockhart said. "Sometimes I even say, 'Wow, I keep forgetting that he's [22] years older than me.' It doesn't factor into our relationship at all." What does factor into their relationship, though, is the fact that Ford keeps crashing planes.
15. Lorenzo Lamas (60) and Shawna (30 or 31)
Lorenzo Lamas married his fifth wife, Shauna Craig, in 2011. As for how the age difference affects their relationship, Lamas told ET: "It [complicated the family dynamic] initially. Of course it would. My friends said, 'What could you possibly have in common with a person that's 30 years younger than you?' I told them, 'Everything.'"
She's just one year younger than his daughter Shayne, and she actually acted as a surrogate for Shayne's baby. Yes, Lamas' wife gave birth to his grandchild.
16. Warren Beatty (80) and Annette Bening (59)
Warren Beatty, a notorious womanizer who has (maybe) slept with 12,775 women, met Annette Benning in 1990. He was set to star in the mafia drama Bugsy, and was in search of someone to play his leading lady. She had lunch with him (even though her agent warned her against it, saying that Beatty would just hit on her), and afterwards, Beatty called Bugsy director Barry Levinson and told him "I love her, and I'm going to marry her." And he did, in 1992.
17. Alan Ferguson (54) and Solange Knowles (31)
Beyoncé's kid sister Solange and video director Alan Ferguson started dating in 2008, but have always been pretty low-key about their relationship. According to Knowles, she was the one who pursued him. Before their wedding, they played the 1975 Diana Ross movie Mahogany, which they'd watched on their first date. The couple got married in New Orleans in 2014, in what has to be the most fashionable wedding ever.
18. Hugh Hefner (91) and Crystal Harris (31) (and just about all the Playboy bunnies ever). (Update: RIP Hugh Hefner.)
Crystal Harris married Hugh Hefner on New Year's Eve, 2012, making her his third wife. He's 60 years older than her. That's like an entire lifetime. This relationship is less May/December than March of last year/January of next year. Good luck with that, you two.
This article was first published by our partners at Someecards
---
---