File this story under: Going Above and Beyond.
When Morehouse College student Wayne Hayer couldn't find a babysitter for his daughter Assata, he did what he had to do and brought his little one to his Math class.
His professor, Nathan Alexander, noticed Hayer had his baby girl with him for the day and he offered to hold Assata so that his student could take better notes in class.
The Math professor then proceeded to hold little Assata for the entire 50-minute class so Hayer could focus on concentrating and even held the girl for another 10 minutes after class while students asked Alexander questions about his lecture.
A student snapped a pic of Professor Alexander and shared it on Twitter.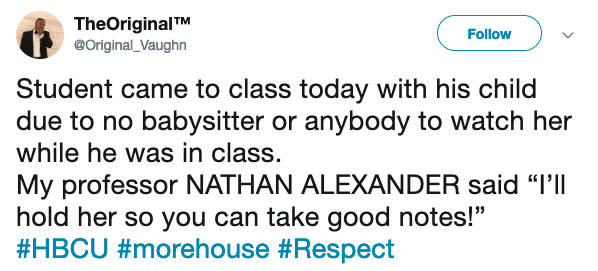 Alexander said about his double duty as Professor/babysitter, "I'm not a father, I don't have children of my own. I was worried that she would start crying. But it actually went perfectly. She was extremely well behaved."
Alexander also joked, "When she started falling asleep, I told the class, 'I guess I'm being boring right now'".
Nick Vaughn, the student who snapped the photos, shared his own thoughts on Facebook.
The little girl's mother was moved by the outpouring of love and support.
Feel good story of 2019? I think we might have a contender…
---
Add Did You Know? to your Google News:
---