For many of us who live in states that are still not totally overrun with coronavirus cases, it can be difficult to find firsthand information about what coming down with the virus is like. We don't know anyone who personally has it (thank goodness!) but sometimes a lack of details can be scarier than knowing everything right up front.
Which is all to say that many people relying on accounts from celebrities and strangers who have contracted the virus (and survived).
Actress Rachel Matthews (Happy Death Day, Frozen II)  is one of those people who has gotten sick and been comfortable sharing her experience.
She posted it on her Instagram story, beginning with the scary fact that she was officially diagnosed with coronavirus.
After that, she began to detail what her symptoms looked like, day by day.
Days 1 – 4: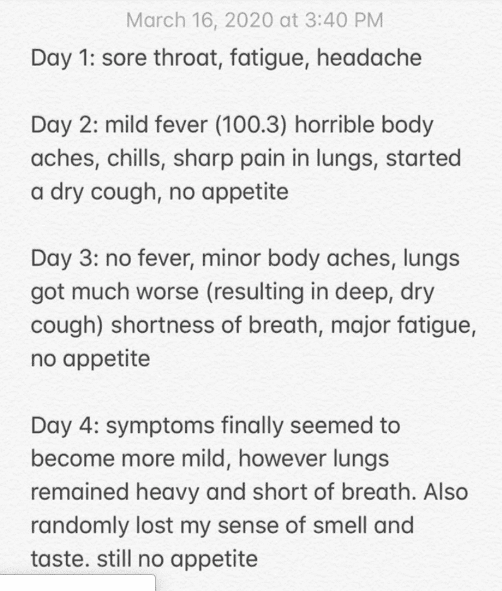 Days 5 – 7:
She pointed out in her caption that since tests are really hard to come by, people should be self-isolating if they feel sick and have any/all symptoms of the virus.
"The reality is, [tests] are INSANELY hard to come by," she wrote. "Our country is very behind and we don't have much of a system in place. I only got tested because I had been around a confirmed case and had been showing symptoms.

"Please, if you have any symptoms at all but can't find a test please just treat yourself as if you are positive. Rest, drink lots of liquids, and SELF QUARANTINE."
Matthews also shared a post from Idris Elba, who has also tested positive.
There you go, friends – I hope these posts and the information they contain can give you a bit more peace of mind about the current state of the world.
If you've had COVID-19 or know someone person who has, please add any pertinent information in the comments!
---
Add Did You Know? to your Google News:
---