There are some hard "no's" when it comes to kids these days – no honey before the age of one, no whole grapes until like, high school, and no popcorn for toddlers and younger – but unless something bad has happened to you or someone you know, it can be easy to play fast and loose with the "rules."
After all, what are the chances your under-one will get botulism from honey really?
I know I always think to myself, "Yes, but how badly will you feel if you're the one it happens to and you could have prevented it?
I would guess that's one of the things mom Nicole Goddard is feeling after a piece of popcorn that went down the wrong way landed her little guy in the hospital.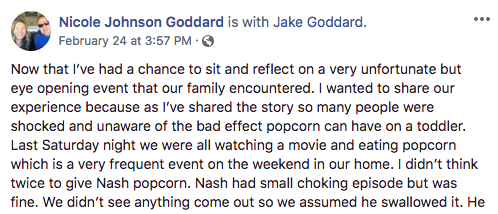 She explains in her Facebook post that her 2-year-old son choked a bit on a piece of popcorn but that it seemed like no big deal until the next day, when he was coughing, complaining that he didn't feel well, and running a bit of a fever.

By the next morning his breathing was labored enough to concern her so they made a trip to the pediatrician…and then the children's hospital.

Nash had to undergo not one, but two surgeries to get all of the popcorn husks from his lungs.

He's doing fine now, and Nicole just wants other parents to realize those rules – like "no popcorn for kids under 5 – exist for a reason.
Most parents have been supportive and thankful for her candid share of her experience – I know I am!
---
---