It's good to have a sense of humor about one's situation, even if it's not the best of times. And Richland, WA, resident Anthony Akers seems to realize this better than most – just look what he replied to his local police department's Facebook post naming him the wanted criminal of the week on their "Wanted Wednesday" post.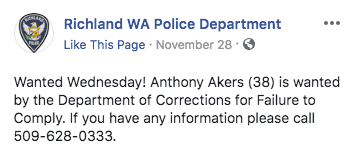 The department makes the weekly post to encourage residents to keep an eye out for wanted citizens in their midst, and Akers was wanted for allegedly violating his probation.
The comment received more than 10k reactions on Facebook and had residents tuning in every day to see whether or not Akers would actually follow through on his promise.
He did not – at least, not right away – a lack of action that resulted in a second amusing exchange between the department and Akers that, let's be honest, didn't go on long enough for our liking.
Akers did eventually turn himself in, even posting a selfie marking the occasion to the Facebook comment section. All is right with the Richland, WA world again.

Sgt. Drew Florence told Buzzfeed news that he believes it's good for their department to show they have a sense of humor.
I mean, it certainly can't hurt.
"It's good to get engaged with the community," he says, "even those who are wanted.
I'm going to need a story like this at least once a week. More, if we can make it happen.
---
---