I suppose when you live in a country with as long and rich a history as Italy, it might seem obvious that one day you're bound to stumble across something super old and probably pretty cool. That said, I doubt these construction workers ever thought they'd accidentally dig up a jar of coins worth millions.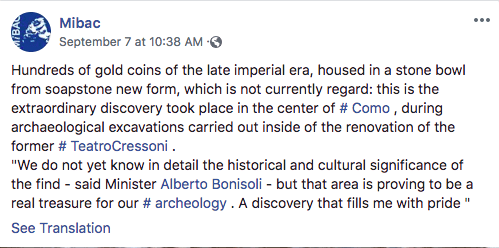 CNN reported
that the workers were excavating the basement of the Cressoni Theater, which opened in 1807, when they unearthed the unassuming soapstone jar. In the 20th century, the building became a cinema before shuttering completely in 1997. Now, the land was being converted for use as a luxury apartment complex, though that project will now likely be put on hold while teams of archaeologists make sure no other priceless treasures lurk beneath the earth.
The jar contained a stash of Roman coins that dates back to the 5th century CE, and they are well-preserved enough to fetch millions. They were handed over to
a restoration lab
, where the Ministry of Cultural Heritage and Activities will study them further.
Since the theater is near the ancient site of Novum Comum, an ancient Roman town that dates back to the 1st century B.C.E., it seems likely there are more treasures to uncover. The coins themselves can be
traced back
to the end of the Western Roman Empire.
h/t: Mental_Floss
---
Add Did You Know? to your Google News:
---