Human goals, am I right, people? I wish I could get my husband to mow the lawn without being prodded, and we've only been married for a little over 2 years!
This now-viral post was shared by Codie LaChelle McPhate, the couple's daughter. She wrote:
"This is my dad, mowing my mom's lawn. They've been divorced 28 years. When my younger siblings questioned 'Why is your dad mowing mom's lawn?' I told them 'Because she needed help, and he knew she couldn't get out here to do it, so he did.'"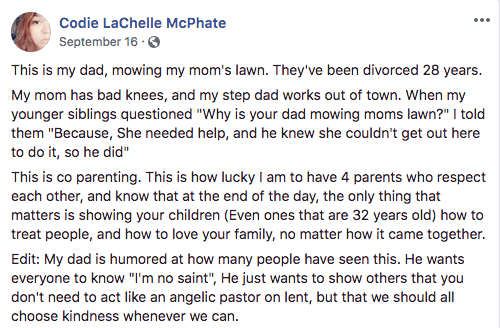 McPhate explained that her mom has bad knees and her stepdad is often out of town, so her dad steps up and helps when he can.
"This is co-parenting. This is how lucky I am to have 4 parents who respect each other, and know that at the end of the day, the only thing that matters is showing your children (even ones that are 32 years old) how to treat people, and how to love your family, no matter how it came together," she added.
In an interview with Scary Mommy, Codie said this helpful attitude isn't new for her parents.
"They've never let on that their relationship was bad or good. It's always been 'we're a family and that's all you need to know. To this day, I don't even know why my parents got divorced. My mom always said 'it's none of your business, it wasn't your marriage, it was mine.'"
The two are a great example of how to parent through a tricky time. Children don't need to be involved in their parents' drama, they only need to know they're safe and that they have a family who cares about them no matter what.
After the post went viral, Codie's dad weighed in, proving that he's still raising the bar. He said that he's "not a saint," but that "we should all choose kindness whenever we can."
Amen to that.
---
---