If you've been single well into your 20s, 30s, or beyond, then you've likely not escaped the commentary from well-meaning relatives hoping you'll meet "the right guy" and settle down. In that case, you can probably sympathize with 32-year-old Zahra Haider.
She was just looking to have a little fun with her mom (who is of course very invested in her romantic life), so after watching John Wick 3 and remembering her love for Keanu, she sent a text introducing him to her Ammi (mom) as her new boyfriend.
Zahra wasn't initially sure whether or not Ammi knew who he was, but she quickly realized the game could continue.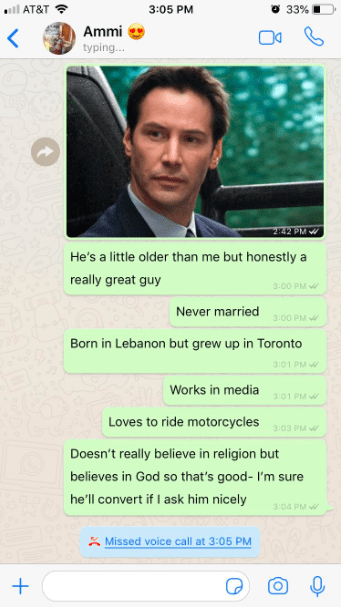 "We're huge trolls in this family, so we're joking and laughing and trolling each other all the time. That day, in particular, I was on a Keanu kick. My mom just happened to get caught up in it. I though she'd catch on but she never did and so I decided to take it as far as I could."
Her mom was just so sweet about the entire thing – even when she learned it was all a joke, Haider told Buzzfeed.
"I called her to tell her it was a joke and she's like, 'He does seem wonderful but he might be a little too old for you."
As for Ammi, she is taking her brief moment of fame in stride. Because of course she is.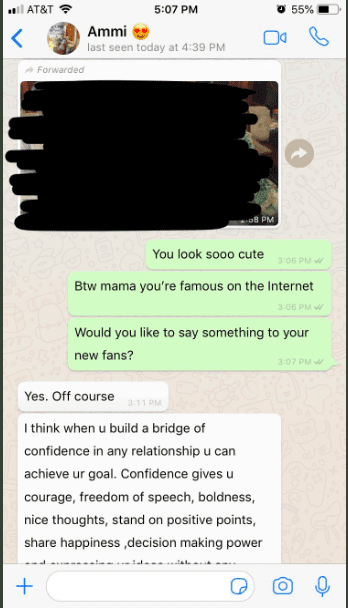 Twitter loved the entire exchange (obviously):
Haider figures that if Twitter is good for one thing, why not another? So, she passed on a message to the man himself:
"If you are single and ready for a lady friend to accompany you on your motorcycle, I can probably clear my schedule."
Your move, Keanu. The internet is waiting to hear your reply.
Don't let us down!
---
---