#15. This could have doubled on #AwkwardBreakups
#14. I mean but some people's names are really hard to find. Blame your parents.
My husbands grandmother gave us key chains from Las Vegas with names other than our own… #WorstGiftEver @FallonTonight

— Sonya Luna (@soonerlunar) December 7, 2015
#13. This is everyone's grandma.
@FallonTonight My grandmother sent me a card with the handwritten message whited-out from the person who sent it to her. #WorstGiftEver

— caroline williamson (@element75) December 4, 2015
#12. What's wrong with a good space heater?
@FallonTonight one year my husband bought me an oscillating fan heater for Xmas. #WorstGiftEver pic.twitter.com/CL43VdfQIM

— Jackie Sydney (@JRWsydney) December 3, 2015
#11. Ouch.
@fallontonight My grandma once gave me a size 50 leather belt saying "I hope it's big enough" I wear a size 38. #worstgiftever

— Shawn McCoy (@McShwoon) December 3, 2015
#10. I'm guessing this was also the day you made the sad discovery that your girlfriend wasn't all that bright.
#9. Everyone needs a mom who will tell you the truth.
@FallonTonight #WORSTGIFTEVER MY MOM GAVE ME SPANX. SPANX!

— Call Me Jen™ (@SouthJerseyJen) December 7, 2015
#8. Not the most subtle of gifts, but effective.
@FallonTonight one christmas, my girlfriend at the time gave me a bag of all my stuff back. We broke up. #WorstGiftEver

— Justin Snyder (@JSnyder0306) December 4, 2015
#7. Practical gifts never go out of style.
@FallonTonight @jimmyfallon One time my uncle gave my sister a lock and told her she could use it at the gym #WorstGiftEver

— marlee kamen (@mlkamen) December 3, 2015
#6. I feel like living gifts are pretty much never a good idea.
#WorstGiftEver HS bf thought it was sweet to get me a rabbit w/o consulting me first. It was highly vicious for an herbivore. @FallonTonight

— Arielle (@TheMermaidAg) December 3, 2015
#5. I mean, if he's paying for college, I probably wouldn't complain…
#4. According to this hashtag, there are a lot of re-gifters out there.
.@FallonTonight "Oh wow!! …It's the sweater I gave you last year." #WorstGiftEver ???

— ⚫Kat⚫ (@Official_K8) December 5, 2015
#3. …for all those nights when you pee the bed?
@FallonTonight When I opened my Christmas present from my boyfriend he had given me a mattress pad!! #WorstGiftEver

— Kristine Buxton (@KristeeniB) December 3, 2015
#2. This truly might be the worst gift ever.
My now ex husband gave me a hose caddy for my birthday, really worst gift ever @FallonTonight #WORSTGIFTEVER

— Southpaw64 (@lefty7464) December 4, 2015
#1. I wonder how many years of therapy that took to shake.
Make sure to follow @DidYouKnowFacts on Twitter for more fun and games!
BONUS TWEETS: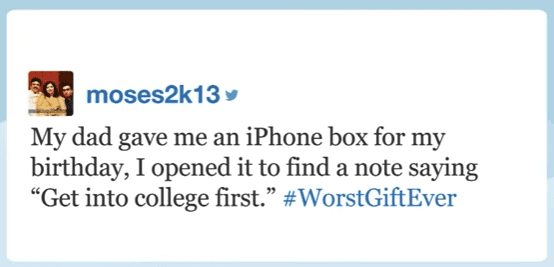 ---
---