Thanksgiving is full of food, family, friends, and all things thanks. But the prep for Thanksgiving, that's where the real hassle is. If you're anything like me, just the thought of cooking such a large meal sounds terrible!
But then this meme happened.
So these folks took to their phones just as told and requested help from their beloved mothers. Their responses? Take a look – and Happy Thanksgiving!
1. Not an option
2. What?!?!
3. Fantastic
4. Gross
5. Answer me
6. Trust me
7. Being nice
8. Very funny indeed
9. Keep me posted
10. Won't work
11. Tough
12. Send me away
13. Right?
14. Yes it is
15. Straight to the point
16. Uhhhh
17. Hahahahahah
18. Yeah, silly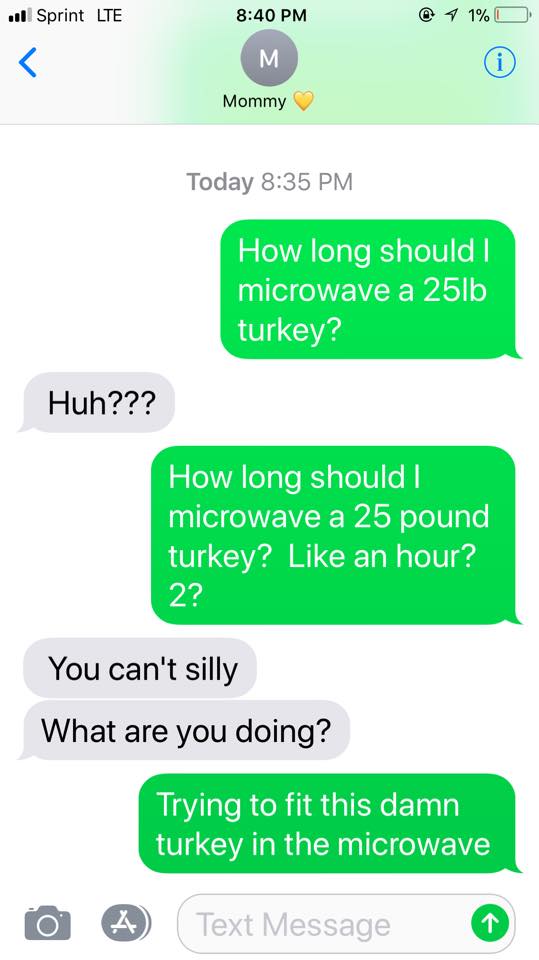 19. LOL
We know you can choose a lot of sites to read, but we want you to know that we're thankful you chose Did You Know.
You rock! Thanks for reading!
---
---