In November 2018, Emma Thompson became Dame Emma Thompson and the way she went about receiving her title is, honestly, #goals.
I mean, she asked Prince William for a kiss while at Buckingham Palace.
Y'all. You gotta go for that when you've got your once in a lifetime shot, as far as I'm concerned.

According to an interview with the Associated Press, Will informed her that the kiss wasn't necessary.
Womp-womp. At least she tried.
Apparently it was an inside joke since the two have been acquainted since childhood, but my point remains valid.
Also, while some of us were focused on whether or not Wills hands out kisses to all dames (and if so, were busily Googling how to become a dame) others noticed and commented on her totally chill choice of footwear.
Because girlfriend is sporting tennis shoes at this fancy-schmancy event.
Maybe she's got some kind of foot ailment, or maybe she really is this confident in herself. If the latter, I bow to her.
Do we bow to dames? I do now.
Especially after someone pointed out the "equal pay" badge on her jacket.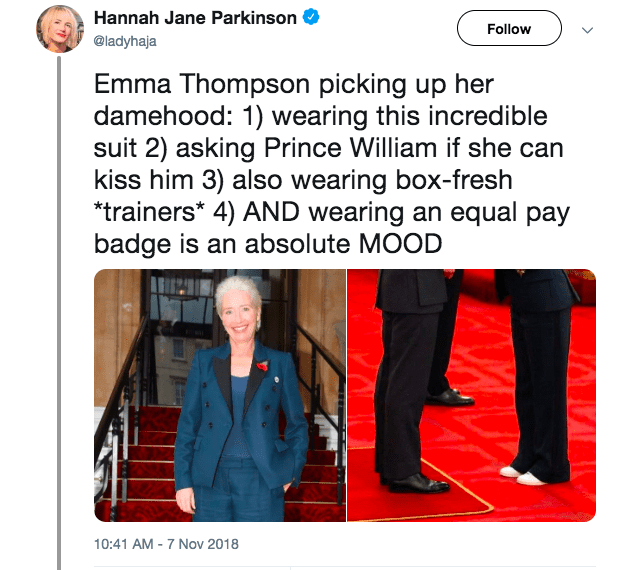 Too bad we can't vote on new queens, because….
Yep.
---
Add Did You Know? to your Google News:
---