Amphetamines were discovered in the late 19th century, and were often used to treat asthma at first. But by the early 20th century, their ability to energize our nervous systems made them very popular for other reasons. It might surprise some, but countries used to give their soldiers amphetamines. In fact, the US gave the drugs to soldiers who fought in World War II, the Vietnam War, and the Gulf War.
Finland is another country that used to supply its troops with amphetamines. Bizarrely, a Finnish soldier overdose on amphetamines during WWII and went on to become a bit of a legend.
The solider was Aimo Koivunen, and his story goes like this… as told by Tumblr:
A Finnish soldier was separated from his unit. It turns out that this is the guy who was in charge of carrying the amphetamines for the entire group.
He had trouble just getting on pill out, so decided to pour all 30 into his hand instead. And, yes, he ate them all.
The soldier was totally alone, and it sounds like he endured a pretty harrowing two weeks on his own while completely tripping his face off.
Let's not even go into what he did or didn't do to the Soviets, okay? It sounds intense.
Somehow, the soldier survived, though it sounds like he did suffer a pretty gnarly injury.
His name? Aimo Koivunen.
When he was finally found, he was totally decimated.
Not much is known about what happened to him afterward, but hopefully he managed to live a long, quiet life somewhere.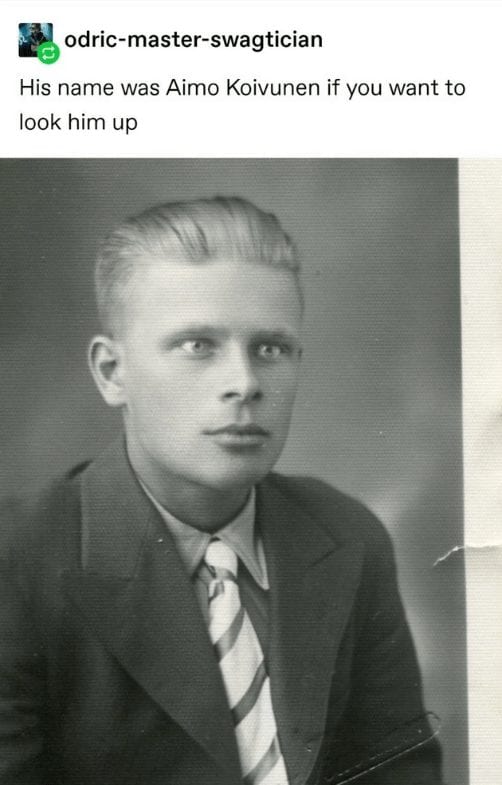 That is definitely one of the more intense soldier stories I've heard!
What did you think of Aimo's adventure? Make sure you let us know in the comments!
---
Add Did You Know? to your Google News:
---