If this isn't the sweetest story of the week, we'll all go into diabetic shock reading the one that actually is, because I don't know how anything could be more saccharine (in a good way!) than this tale of love and romance.
Bill Duncan has been suffering from dementia, a neurological disease that causes a gradual, long-term decrease in his ability to think and remember, for 9 years. His wife, Anne, has stayed faithfully by his side, despite the fact that they've only been married for a few years longer than his diagnosis.
Sadly, for the past year or so, her husband did not know her name, recognize her, and he wasn't aware of their relationship.
So when he told her one day that he "really, really liked her" and wanted to marry her, she was touched.
When he persisted for a few days, remembering the proposal and asking when they could marry, Anne and her children decided why not have a wedding?
That's what they did, and two weeks later, the memory hasn't left Bill.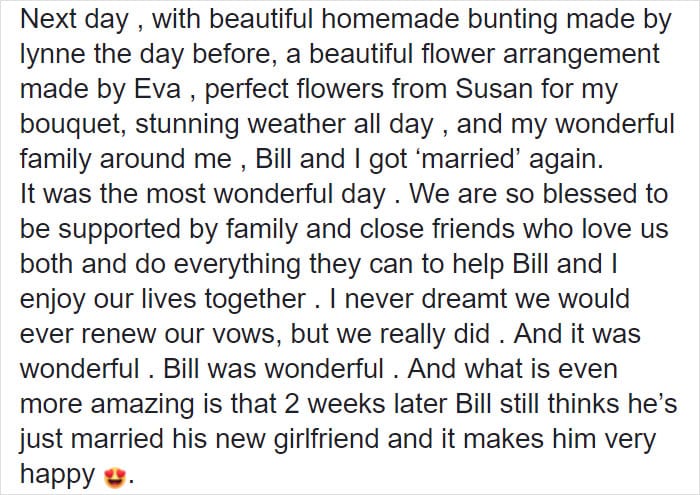 And even though it's likely that the memory will, probably sooner than later, escape from Bill, it's one that Anne certainly won't ever forget.
So if you've got a loved one nearby, maybe grab them for a hug and a kiss? Cause you never know what's coming down the pipeline.
Love is alive, my friends, and it is beautiful!
---
---