Navigating family relationships as a teenager can be hard no matter your living situation – in fact, it almost always is. The normal issues between teens, parents, and siblings can be exacerbated when blended families come into play, particularly if the blending is recent or happened later in their youth.
This girl is 17 and lives half the time with her father, stepmother, and younger stepbrother. The other half of the time she lives with her mother, and neither family can afford any extras.
I'm 17f, I live with my dad, stepmom and stepbrother, 14m, we'll call him T, during the week, and stay with my mom weekends + whenever I want to during the summer. I stayed with her most of this past week because she f**ked her back up at work and needed help. Worth a note that both families live below the poverty line, so anything that isn't a necessity isn't bought for us.
OP has been saving money for a new phone while her brother is going through a rebellious phase where he's kind of a jerk and is also into smoking weed.
T is going through a rebellious phase at the moment. He's been smoking weed and drinking and just generally being a bit of an ass. He'll do pretty much anything to get money to smoke which is where the problem here starts. I've been saving to get my phone screen fixed or possibly a new phone the past few months because the one I have I've had since I was 12 and it's barely functioning.
While she was gone he broke into her lockbox and stole all of the money she'd been saving for her phone.
T went into my room while I was gone during the week, somehow opened the locked box I keep cash in and have the only key for and used it to buy drugs. He took every penny that was in there. When I got home and went to put spare change in it, it felt lighter and when I opened it I noticed everything was gone.
Her stepbrother admitted he took it and used it all and they got into a shouting match that OP regrets, but in the heat of the moment couldn't help herself.
First thing I did was ask T where it went and said he took it.

I saw red, I ended up screaming and shouting at him, I called him a lot of names I shouldn't have and told him he's not just hurting himself anymore.
She also couldn't help herself when she told her stepmother that she needed to discipline her child.
Stepmom came in to see what the commotion was about and when all she did was send him out so she could speak to me privately, I said "Instead of speaking to me, go discipline your f**king child."
Her family thinks she was out of line, but was she?
Whole house is mad at me for that and think I'm the asshole for saying that. T hasn't even been told to replace it and now I'm set back by another year or so.

I'm not reporting to the police. I have to live here.

I can't live with my mom, she doesn't have the space or the money to keep me very long and her loving conditions are straight up dangerous.

I can't believe people really aren't getting this but all three of my parents are below the poverty line, my dad and stepmom are drowning in debt, they have nothing to reimburse me with.

And getting a job isn't easy pals. I been trying 🙂

AITA?
Reddit is sounding off below!
There's a lot going on here, and none of it should be the problem of a 17yo girl. Unfortunately, that's where we are.
The stepbrother obviously needs some help, but it isn't her job to get it for him.
If she can't live with her mother, maybe she could keep her valuables safe there?
This person had some good thoughts and options.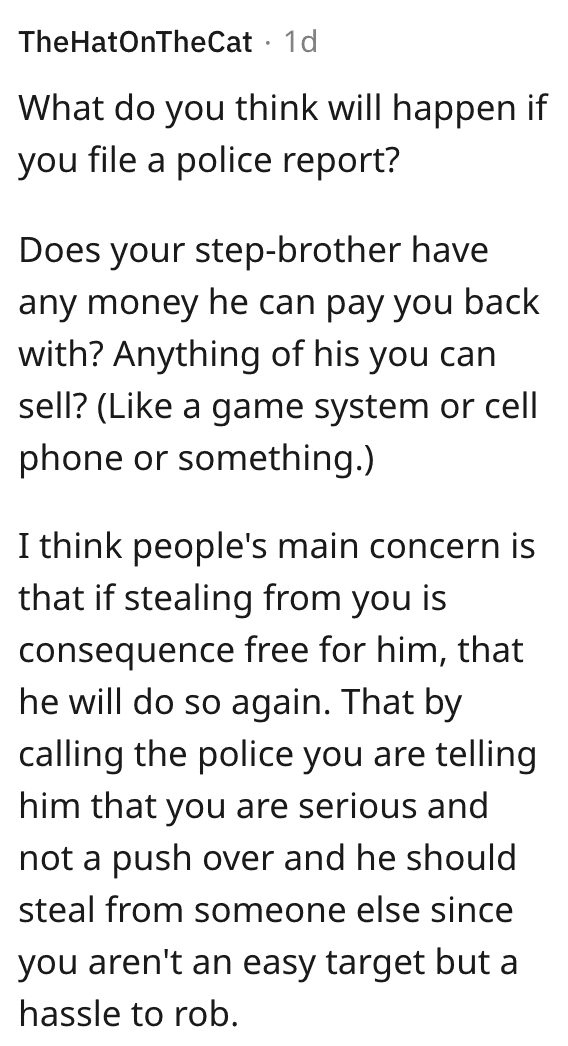 Someone who has been there and understands is one of the few who disagreed about calling the police. (E)
Maybe just the threat will do something but honestly, I kind of doubt it.
This is such a tough one, but I don't think anyone – even OP – thinks they're the a$$hole. Sadly, I think she just doesn't have anywhere else to tell the story where she feels heard.
What would you do in this situation? What IS there to do? Let's discuss in the comments!
---
---