For some of us, it doesn't seem like that long ago that we saw The Goonies for the first time. Us 80s kids related – no one watched us after school (or before school), we went on adventures with our friends, we almost died on the regular and our parents really didn't notice unless we didn't show up for dinner.
"Goonies never say die" became the rallying cry of a generation. At least, until we outgrew the pre-adolescent hijinks and started thinking that maybe the cute older brother was actually more interesting after all.
So excuse me if I (and my fellow 80s kids) were just really, really into Josh Gad's Goonies reunion.
The super fun chance to check in with some of our childhood favorites came in a video called Together Apart with Josh Gad, and it was made in order to earn money for The Center for Disaster Philanthropy's COVID-19 Response Fund.
All seven of the original cast members showed up, which only makes me love them all more.
Sean Astin, who played Mikey, went on to star in Rudy, The Lord of the Rings, and Stranger Things.
Josh Brolin, who payed brand, has gone on to have an Oscar-worthy acting career. Most recently, he's played Thanos in the Avengers movies. He's awesome to have made time for the reunion video, though it seems like he really wanted to.
"I'm so happy to see everyone, I can't even tell you. I was shaking before we started."
Kerri Green played Andy, and afterward starred in some other classics of the 80s – Summer Rental and Lucas.
Jeff Cohen said in the video that he retired from acting after The Goonies, because after playing Chunk, there was nowhere to go but down. He's a entertainment lawyer for a high-profile firm.
Data, aka Jonathan Ke Huy Quan, recently returned to acting. He credits movies like Crazy Rich Asians with opening up opportunities for actors of Asian descent. His upcoming projects include Finding Ohana and Everything Everywhere at Once.
Martha Plimpton (Stef) has maintained a busy working schedule with roles in film, television, and on stage. She won an Emmy in 2012 for her role on The Good Wife.
Mouth (Corey Feldman) went on to star in some major films (like The Lost Boys) and also released a number of albums.
The Fratelli brothers – Robert Davi (Jake) and Joe Pantoliano (Francis), also joined the Zoom reunion. They both continued acting after their roles in The Goonies.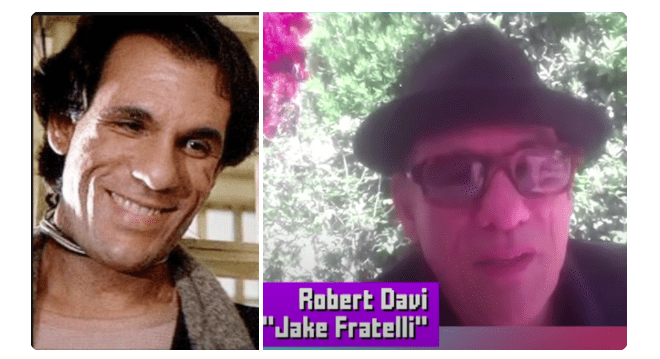 The film's screenwriter, Chris Columbus, went on to direct a little hit called Home Alone, and also helmed the first couple of Harry Potter movies.
Robert Donner, who directed Goonies, also came to pay. He's recently turned 90, and has concluded a long directorial career.
Someone you might have heard of – Steven Spielberg – joined the call, which was a special treat. He was the executive producer and co-writer on The Goonies. 
You might remember, as well, that the movie had a hit song by Cyndi Lauper – The Goonies 'R' Good Enough. She hopped on and led everyone in singing the oldie-but-goodie, so make sure you listen to the end.
Another teaser that's sure to get you to watch – each actor re-created their most iconic scene from the film.
Truly, this is a reunion that you don't want to miss!
Me? I'm off to watch the whole thing again.
Let us know what you think in the comments! We love it when we hear from you!
---
---