I'm not sure that bullying at school is any more prevalent in America today than it's ever been, but here's what is different: social media. Things are caught in video or in images, and they stick around forever. They follow you. So the 20% of students between the ages of 12-18 who are getting bullied at school are less likely to be able to escape their tormenters, even at home.
Kids who are bullied are more likely to have mental and physical health issues, are more likely to experience depression and anxiety, are more likely to struggle in school and have other general complaints about their well-being.
It's a big deal, is what I'm saying, and while there have been steps taken by schools to make things better, the truth is, we still have a long way to go.
And after reading about this case, it's clear we have a long way to go when it comes to treating genders fairly and equally in every situation where that's possible.
This boy was harassed, followed, and then verbally and physically attacked by two girls as he actively tried to retreat. Once his back was against a wall (or a vending machine), he warned them that he was getting mad and he didn't want to hurt them but if the hit him again or came any closer he would.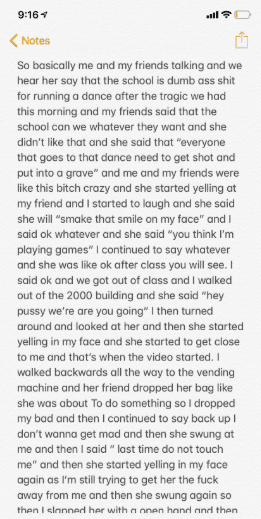 Here's what it says:
"So basically me and my friends talking and we hear her say that the school is dumb ass s**t for running a dance after the tragic we had this morning and my friends said that the school can we whatever they want and she didn't like that and she said that "everyone that goes to that dance need to get shot and put into a grave" and me and my friends were like this b**ch crazy and she started yelling at my friend and I started to laugh and she said she will "smake that smile on my face" and I said ok whatever and she said "you think I'm playing games" I continued to say whatever and she was like ok after class you will see. I said ok and we got out of class and I walked out of the 2000 building and she said "hey pussy we're are you going" I then turned around and looked at her and then she started yelling in my face and she started to get close to me and that's when the video started. I walked backwards all the way to the vending machine and her friend dropped her bag like she was about To do something so I dropped my bad and then I continued to say back up I don't wanna get mad and then she swung at me and then I said " last time do not touch me" and then she started yelling in my face again as I'm still trying to get her the f**k away from me and then she swung again so then I slapped her with a open hand and then her friend grab and rips my t-shirt and I turn around and hit her, then she come back and then I hit the crazy b**ch again then a teacher split as up. What I did was f**ked up and I wish I could change it, but I didn't want to turn my back to her and have both of them behind me so that's why I did what I did. "
All of this time, no one intervened. Not a teacher, not another student – no one stepped in to try to help this boy who was obviously in trouble but trying to keep it together.
He smacked the girl twice, then smacked her friend when she tried to run and grab him, too.
At that point, other students and a teacher stepped in to stop the fight, acting as if the boy was completely heinous for daring to put his hands on a woman.
Now. Fighting is wrong. It's better to use words to resolve issues. Etc etc etc.
HOWEVER. If a woman is physically assaulting a man, and the only option left him to protect himself is to retaliate, then he should be able to do so. Women do not get a free pass because of their genitals. Those girls can't just kick the crap out of a fellow student – literally and figuratively – because he's a boy and he should just take it.
Also? The reaction and intervention was swift once he fought back, which means that people were watching the entire time, and just didn't care when it was a boy on the receiving end of the torment.
I think that's wrong.
Also, here's an UPDATE as to how the school is handling the situation:
"Ok so there is rumors going around and I'm going to explain to everyone. All 3 of us got into trouble, it is unknown how long I'm suspended. I do not know what happened to the other girls yet and I don't know if I will ever know. But the school is still "investigating" the fight and they do have the full video. I do not know what is taking them so long to give me a date for how long I'm outa school but I will keep everyone updated.
And when the girl yells don't touch me ever again, I was putting my hand in between us so she can't get any closer to me, but she keep getting closer and my hand was touching her chest and I continued to tell her to back up."
What do you think? Am I totally off base here? Should he have tried to run away? Tucked himself into a fetal position and waited for them to go away?
Or was it okay to fight back?
I'm interested to hear your thoughts in the comments!
---
---