If there's one thing I wished I had learned earlier in life, it would have been to be happy and confident in who I am as a person – physical appearance and otherwise. It's a hard lesson for most of us to learn, but it's an important one, and life is so much better once you do.
This woman, bless her, seems to love herself, and recognize all of her positive attributes while also accepting those things that are probably never going to be her forte. If you ask me, she's really got it all together, and I am jealous of her confidence!
Her "best friend," though – who is married to a plastic surgeon, seems not to see how her friend could be happy the way things are…to the point where she gifted OP (original poster) a plastic surgery on the house.
OP tried changing the subject and making vague comments, but that didn't work.
Instead, she took the direct route (again, bless her) and said that she appreciated the gesture but that she likes herself the way she is and also doesn't want elective surgery.
The other couple were quiet for the rest of the night, but then OP learned later they thought she was rude and unappreciative.
The commenters are pretty much on OP's side, here, since giving someone plastic surgery they didn't ask for is pretty rude in and of itself.
Seriously, I think we can all agree this is not something we spring on friends as gifts.
The picking apart of what her "friend" needs fixed is just gross.
While this person was kind enough to point out the friend was probably just projecting her own body issues (not that that makes it right).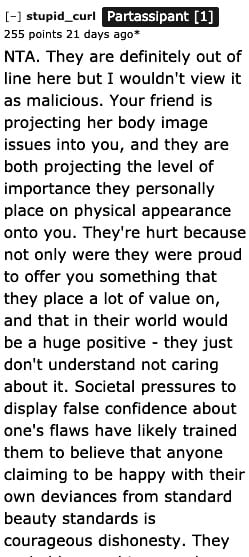 Bottom line? Pretty much everyone agreed the friend and the surgeon husband are the a$sholes here!
Do you disagree? How would have you handled this situation?
I want to know, so tell us in the comments!
---
---