Is there anything quite as wonderful as getting fresh flowers from a secret admirer? It's gotta be one of the best pick-me-ups to any day!
Rosie, a Redditor from the UK, noticed that someone was regularly leaving pink flowers on her terrace, and she had no idea who it might be until one day, the cat was finally out of the bag – somewhat literally!
The flowers were being left by Willow, a neighbor's cat!
This is the sight that greets Rosie almost every day.
"We live on a street of terraced houses that backs onto another street of terraced houses with a kind of garden corridor between."
"Willow rules over about six of the gardens, and I'm pretty sure she gets fed by everyone because she's very difficult to say no to."
"For a while, It was just a legend that it was her until yesterday when I was cooking and spotted her jumping down with a pink flower in her mouth."
"I'd never seen a cat ever bring back anything but dead animals before."
"She clearly likes us because she steals flowers from (her owners) and leaves them on our deck."
Willow's been visiting Rosie every since she moved into the property.
The flowers have been coming since early spring.
"It was at least ten flowers before we realized it was her."
Naturally, all those flowers have earned Willow a special place in Rosie's heart.
Willow is now a frequent visitor.
Who could say no to her?
What a lil' sweetheart!
Watch the romantic cat in action below:
Naturally, the internet couldn't get enough.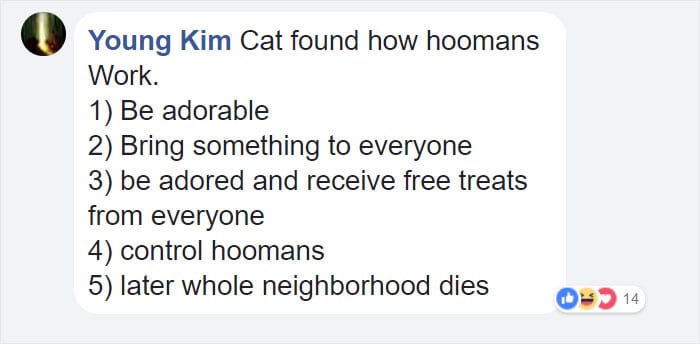 If you enjoyed this, check out:
This Cat's Reaction to a Possum Stealing Her Dinner Gets Increasingly Better with Every Photo
This Guy Takes in an Adorable Stray Cat and Live-Tweets the Story Every Step of the Way
---
---